We're starting the countdown to WordCamp Europe 2023, and here are all the reasons not to miss only the biggest WordPress conference worldwide!
Are you a WordPress developer, marketer, business owner, or freelancer? Then you're in for a treat! WordCamp Europe is coming to Athens, Greece, this year! And, if this isn't enough to warm you up to go, know that WCEU is the perfect opportunity to learn, connect, and grow your skills.
This article covers everything you need to know before you go to WordCamp Europe 2023, including the schedule, speakers, tickets, accommodation, and more.
What is WordCamp Europe?
WordCamp Europe is an annual informal, community-organized conference that brings together not just the WordPress community from all over the world. It's a 3-day event that happens in a different European city each year that consists of sessions, workshops, networking, social events with the goal of sharing ideas, discussing all things WordPress and getting to know each other. WordCamp Europe 2023 will be held in Athens, Greece, from June 8 to June 10.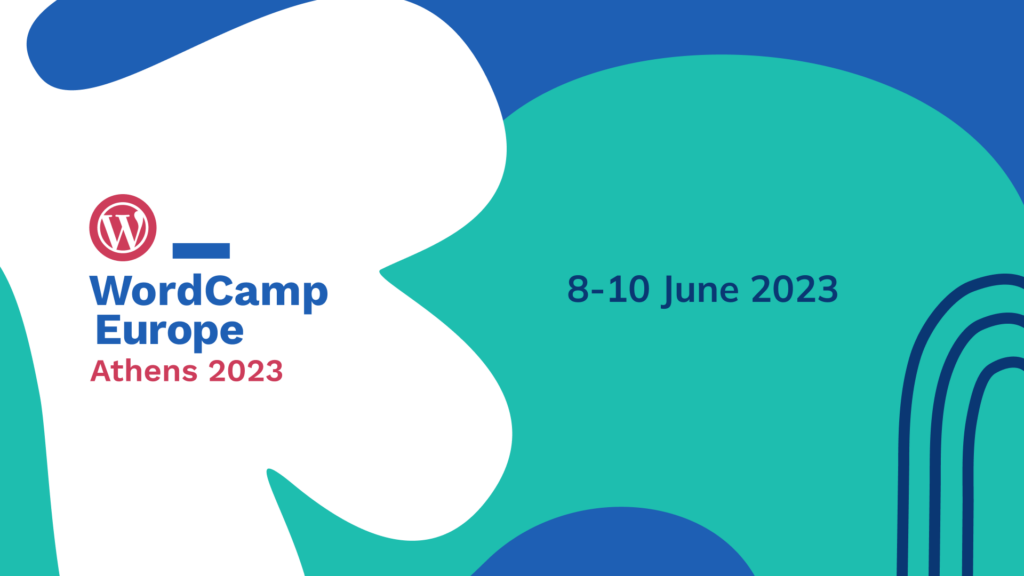 Who Should Attend?
WordCamp Europe is for anyone who's interested in WordPress, including developers, marketers, business owners, and freelancers. There is something for everyone at WordCamp Europe, whether you're a newbie or an experienced professional and we promise you you'll find sessions and workshops that will help you grow your skills and knowledge. Not to mention so much inspiration and good energy to keep you going throughout the year!
During your time at WCEU, you'll not just learn about all things WordPress related but so much more! Marketing, content production, business, tech, new tools, tips, and tricks to help you improve yourself, your ideas, and your business. So, no matter if you're WordPress oriented or not, this very conference is a must-attend event to elevate yourself toward the stars!
What's on the Schedule and who are the Speakers?
WordCamp Europe 2023 will feature a range of sessions and workshops on various WordPress and not so WordPress related topics. There will be talks on design, development, content, business, marketing, performance, and more. Although the schedule is yet to be announced, you can be sure that talks are a healthy mix of sessions for beginners and advanced users, as well as resourceful workshops – even some for kids! And maybe a panel or two, who knows?
WordCamp Europe is known to gather some of the most knowledgeable and experienced speakers in the WordPress community and beyond. And while they are yet to be announced in the upcoming weeks, expect a mix of local and international experts that will share their insights, takeaways, and useful information for us to use in all of our industries.
How to Buy Tickets?
Tickets for WordCamp Europe 2023 are available on the official site and include entry to their two-day event with lunch, coffee, snacks, the opportunity to register for Contributor Day, and an invite to the After Party. You'll also get to collect WCEU's yearly event t-shirt and connect with others from the community.
Now, as a new feature, there are two ticket options to choose from:
•       General ticket
•       Micro-Sponsor ticket
What's the difference?
Well, the General ticket is the regular one, priced well below the real cost of attendance because organizers are dedicated to keeping WCEU always affordable. The price for this type of ticket is 50eur and so far, only about 200 tickets are left.
Micro-Sponsor ticket is priced closer to the real cost of attendance and is designed to support WCEU as a whole and give back to the WordPress ecosystem. The price for this type of ticket is 150eur and there are only about 20ish of them left so far.
Main benefits of attending WordCamp Europe 2023
If we were to pick one thing to signify just how much important and valuable WordCamp Europe is – it would be the community. The WordPress community is the very reason this platform is as open and strong as it is. It's safe to say WordPress wouldn't be what it is today without it. And speaking of community, here are a few more reasons not to miss this year's WordCamp Europe in Athens!
Network opportunities
WordCamp Europe is the perfect place to connect with like-minded professionals, fellow WordPress developers, marketers, business owners, and basically anyone and everyone eager to learn or work (more) with WordPress. Regardless of their experience or knowledge, you're likely to start relationships with open-minded and inspiring people. Not to mention, this very conference comes with various job offers thanks to the designated job board where companies leave their opportunities for work!
Learning opportunities
As mentioned above, WordCamp Europe provides crème de la crème of sessions and workshops carefully picked up to give the most valuable and useful insights, takeaways, tips, and tricks for all of us to use. And while we wait for the schedule, take a look at last year's sessions here at WordPress.tv to get familiar with it, and let us know what you think.
Exposure to new tools and techniques
Being at WordCamp Europe gets you as close as you can be to all the latest WordPress technologies and trends, not to mention staying up-to-date with the latest WordPress advancements. Wanna be the first to hear cutting-edge news, improvements, and revelations? All this (and more!) happens right there and we promise it's all worth it!
Athens people, c'mon!
Europe's oldest capital. Often referred to as the cradle of Western civilization, Athens is a city that houses plenty of historically important landmarks, temples, theatres from ancient times. And did you know that you'll be coming to the very birthplace of democracy? Democracy was established in Athens around 500 B.C. with the goal of enabling eligible citizens to have an equal say and vote about the governing of their society. In case you're more of a drama or theatrical type of person, know that Athens is home to more than 70 theater stages at your disposal, and you'll have plenty of time to go and explore some of them 😊
Meeting ManageWP team 😊
Exciting news for all attending WordCamp Europe in Athens! ManageWP and Sucuri will be there as well! We look forward to seeing you, answering all your questions and sharing some tips and tricks in the domain of WordPress management and website security.
Athens and Beyond: Where to Stay and What to Do
Instead of us talking and convincing you of (from our point of view) some of the best stays and doings, here's what the WCEU organizers recommended so far. Be sure to check out their blog regularly for more updates as well:
·       Staying in Athens: Where will you choose?
·       Discovering Athens: A guide to the best beaches
·       Live like a local: do's and dont's in the city center
Final Tips for Attending WordCamp Europe 2023
Whether it's your first time coming to WordCamp Europe or you're a regular, we wrote a guide for surviving WordCamp Europe we recommend you read. But, overall, here are some final tips for attending the conference this year:
·        Plan your schedule in advance: Once the schedule is announced, take the time to plan which sessions and workshops you want to attend. This will help you make the most of your time at the conference and still leave you enough time for sightseeing around the city.
·        Network: WordCamp Europe is a great opportunity to meet other WordPress enthusiasts and professionals. Don't shy away from introducing yourself and striking up a chat.
·        Promote yourself: You'll meet a lot of people at WordCamp Europe, so it's a good idea to bring business cards or any other relevant (and memorable) alternatives to exchange with new contacts.
·        Stay hydrated: Athens can get hot in June, so make sure to drink plenty of water and stay hydrated throughout the conference.
Conclusion
We hope this guide has convinced you to pack your bags and get ready for an awesome time in Athens this June! If so, let us know and make sure to reach out while there, we're always happy to meet new WordPress-minded people, ok?