If your business isn't growing the way you feel it should, you might suspect your WordPress website has something to do with it. However, pinpointing the issue can be tricky, which is why you might be looking for outside help to narrow down the source of the problem.
You need a professional who can get a sense of your business as a whole and ensure your website supports it. Since you've built your site using WordPress, you'll want an expert familiar with the platform. A WordPress consultant may be the solution you're looking for.
If you didn't even know WordPress consultants exist, don't worry. This post will explain what they do and how they can help your website. We'll also share situations when hiring this type of professional may not be the best move. Let's dive in!
An introduction to WordPress consultants and experts
WordPress consultants take a high-level view of your business and how your website operates within it. To accomplish this, they will typically work cooperatively alongside you, rather than independently. This enables them to understand what your goals are and create a strategy to help you reach them.
There are many places to find WordPress consultants for hire. You can, of course, start with a Google search. You might also check some general freelance marketplaces such as UpWork or Fiverr.
However, it may be more productive to stick to WordPress-focused resources. WPHired enables prospective employers to post listings, so you can give an outline of precisely what you're looking for. You can also go right to the WordPress job board.
Another great way to hire WordPress consultants and experts is to look for WordPress Facebook groups in your town or country. They are active and vocal, providing a ton of free advice and help, and you can search for many professionals out there to help you reach your goals.
Wherever you decide to look for your guru, someone claiming to be a WordPress expert should be active in the WordPress community. Once you've narrowed down your pool of candidates, don't be afraid to ask for references or links to previous projects.
What can WordPress Consultants do?
So, what sort of tasks will a consultant be able to help you with? Many will have some design and development expertise. In fact, many WordPress consultants also refer to themselves as developers.
You can expect help with the technical aspects of your site, such as its initial design (or redesign) and setup. Like traditional developers, consultants may also make themselves available if you run into problems later on.
A WordPress consultant should also show you how your website fits into your business as a whole. They act as advisors and may help to hone your business plan. This can save you a lot of time and money since you'll have a specific track to follow.
Some consultants even focus on particular niches, such as nonprofits or e-commerce sites. If your business is highly specialized, you may want to look for someone who has experience in your arena.
And, just to make it easier for you to fully comprehend the list of things you can reach out for them, here it is:
Technical Expertise: Understanding that WordPress can get quite technical, these experts understand the inner workings, making it easier to solve problems and set up complex features.
Customization: Sometimes, you want your website to look and work in a unique way. WordPress consultants and experts can customize it to match your vision.
Troubleshooting: If something goes wrong on your website, like an error or a hacked site, they're the ones who can quickly and successfully fix it.
Optimization: They can make your website faster, improve its SEO, and enhance its security.
Upkeep: WordPress constantly updates; you must be on top of that. Experts make sure your site stays up-to-date and doesn't break during updates.
Training: They can teach you or your team how to use WordPress effectively, saving you time and avoiding mistakes.
Now, moving on to the specific ways these experts can help – and when not, below.
5 ways WordPress consultants and experts can help improve your website
While a consultant can help you with where your WordPress site fits into your business overall, they often have specializations at which they're particularly adept. Here are some of the more specific ways in which a WordPress expert might help refine your website and its role in your company.
1. Boost your Search Engine Optimization (SEO)
Optimizing your website for search engines is like giving it a roadmap to success.
SEO is a concern for most website owners. A WordPress expert will often have a bag of tricks ready to help improve your rankings.
A consultant will likely begin with an SEO audit to get a sense of how your site is currently performing. This process can include several steps, such as keyword research and performance tests.
Consultants may also use tools such as ManageWP's Link Monitor to clear out any broken links: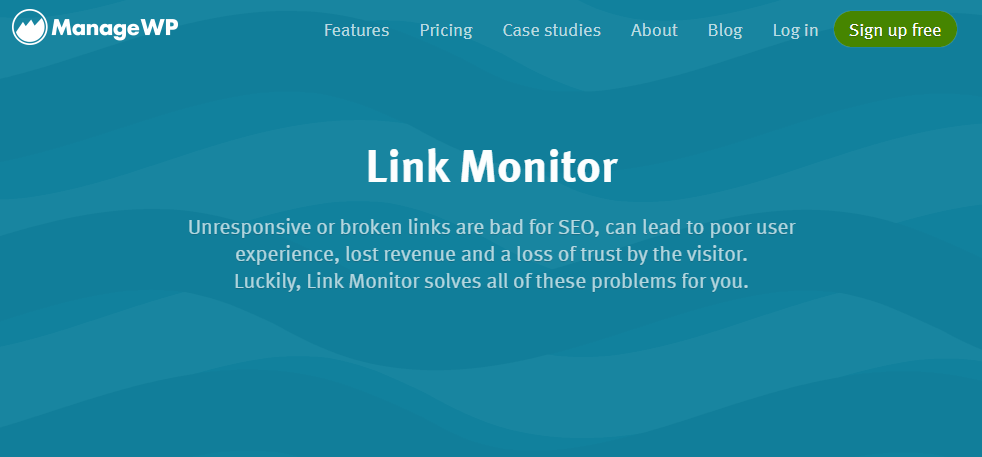 Another project an SEO-savvy consultant may undertake is building your sitemap. A sitemap is designed to help search engines find different pages on your site and tell crawlers which ones are the most important.
Finally, a consultant may give you some guidance on how to generate more positive reviews on your website. Not only will this help with SEO, but it can also build trust among new customers.
In summary, these are some of the most common steps your WordPress consultant might use to boost your site's SEO:
SEO Audit: A WordPress expert often starts with an SEO audit to evaluate your site's performance. This includes examining keyword usage, content quality, and site structure.
Keyword Research: They do this to find the terms people search for in your industry. Tools like Google Keyword Planner and SEMrush are commonly used to determine the most valuable ones.
Performance Tests: Experts might use tools like Google PageSpeed Insights to analyze your website's speed and recommend improvements.
Link Monitoring: Tools such as ManageWP's Link Monitor are used to identify and fix broken links on your website.
Sitemap Creation: They create XML sitemaps to help search engines navigate and index your site efficiently.
Online Reviews: Consultants guide you on generating more positive reviews, boosting SEO and building trust among potential customers. (Plus, they are an excellent way for authority building, both on the website and social media!)
2. Optimize your website's performance
A fast, secure website impresses visitors and ranks higher on search engines. Website performance can have a significant effect on your business. Most consultants will be prepared to make some improvements in this area.
Increasing page speed will likely be a top priority since visitors never want to wait for a slow website. You may be familiar with image optimization or using a Content Delivery Network (CDN) to improve this metric. Yet, other techniques are often overlooked.
Your consultant may recommend ManageWP's Optimization Widget to keep your site clutter-free. This tool monitors spam comments and post revisions, so you can remove them before they affect your site's performance.
A WordPress consultant can also work with you on hardening your site's security. Even if you follow best practices, an expert may show you additional ways to keep your content safe, such as implementing Two-Factor Authentication (2FA).
To recap:     
Website Performance Matters: The performance of your website can significantly impact your business, and WordPress consultants understand its importance.
Focus on Page Speed: WordPress experts prioritize improving page loading speed since slow websites can drive away visitors. Techniques like image optimization and Content Delivery Networks (CDNs) are commonly used to enhance speed.
Utilize Tools: Consultants may recommend tools like ManageWP's Optimization Widget, which helps maintain a clutter-free website by monitoring and eliminating spam comments and post revisions. This not only improves performance but also enhances the user experience.
Enhance Security: They also pay attention to your website's security and may suggest measures like Two-Factor Authentication (2FA) to bolster content protection.
3. Increase your conversion rates
A well-crafted landing page is like a magnet that draws in potential customers. Whether your website is a monetized blog or an online shop, you probably measure your success by conversion rates. A WordPress expert can determine what conversions you should be pursuing and optimize your site to achieve that goal.
A well-designed landing page is a flexible strategy, no matter what conversions you're targeting. A consultant can help set up multiple landing pages to ensure you don't miss any opportunities to grow your business and its revenue.
Improving your copywriting can increase your conversion rates, too. If you don't have much experience in this area, an expert can teach you some tricks. Strategies as simple as breaking text into smaller paragraphs can make a difference. A consultant may also help you to craft more effective Calls to Action (CTAs).
So, in summary, choosing to hire a WordPress consultant helps you with having:
Conversion Goals: Since they specialize in identifying the most effective conversion goals for your website, whether it's a blog or an e-commerce store, they can tailor your site to achieve these objectives, driving success.
Versatile Landing Pages: WordPress consultants can create well-structured multiple landing pages to capture diverse opportunities for business growth.
Enhanced Copywriting: Knowing that improving your website's copy can significantly impact conversion rates, WordPress experts offer valuable insights, even for those with limited copywriting experience. They teach strategies like breaking content into smaller, more digestible sections and crafting compelling Calls to Action (CTAs).
4. Enhance your marketing strategy
A well-executed marketing strategy turns website visitors into loyal customers. Even if your website is in tip-top shape, it won't do you much good without a marketing strategy. If you haven't embraced social media marketing, you could be missing out on an opportunity to connect with new customers. A WordPress consultant can help you set up accounts on the platforms that are relevant to your audience, then integrate them with your website.
Regardless of what kind of business you run, maintaining an email list is often a smart idea. It's an easy way to keep customers up-to-date, and it can position your brand at the forefront of their minds.
A WordPress marketing expert can set you up with a solution such as Mailchimp:
This platform enables customers to sign up for your email list right from your WordPress website. It also makes it easy for you to organize campaigns and segment your subscribers.
The bottom line is that you need WordPress consultants and experts to assist you in crafting specific and effective marketing strategies that connect you with a broader audience. Moreover, they ensure you maintain a healthy email list for your newsletter campaigns and simplify your campaign management, enhancing your marketing efforts.
5. Design your website
Design isn't just about how your website looks; it's about how it works for your audience. If you don't have a website yet, you'll probably want to hire a consultant with some design skills. Even if you do already have one that you're pretty happy with, it may still benefit from a facelift. A theme change can breathe fresh life into a stale site:
A consultant who specializes in this area may make some changes to your site's design to improve its User Experience (UX). They can also handle the task of ensuring your website accurately reflects your brand.
What does that process look like? Often, they begin by understanding your goals and target audience, devising a comprehensive strategy, conducting audits, refreshing designs, optimizing performance, and providing ongoing maintenance. Their expertise ensures that your website is visually appealing, user-friendly, responsive, SEO-friendly, and aligned with your brand identity, ultimately serving its intended purpose effectively and providing a positive visitor experience.
When not to hire WordPress Consultants and Experts
There's a lot that a WordPress consultant can help you with. However, there are times when hiring one might not be the best answer.
When you need help with a specific problem you've identified, there's probably no need for a consultant. In this case, it's best to hire someone who can just handle that issue.
Working with a consultant can be tricky if you're not receptive to feedback. Expect to receive constructive criticism throughout the process.
Additionally, a consultant can't build your business for you. If you haven't developed a clear business plan, you should prioritize that over bringing in outside help.
If you can afford to hire an agency rather than an individual, it's worth exploring that option. With a team of experts, you're likely to end up with a specialist for each facet of your site.
Finally, hiring a consultant isn't a 'set it and forget it' solution. You'll need to be involved, and if you don't have time to dedicate to the process, you won't get much out of it.
On top of that, you might consider not hiring WordPress consultants and experts in the following cases as well:
Budget Constraints: If your financial resources are limited, and you're confident in your ability to handle website development, maintenance, and troubleshooting independently or with basic online resources, hiring an expert might not be cost-effective.
Temporary Projects: For short-term projects with straightforward needs, such as creating a basic landing page or a simple event website, you can utilize readily available WordPress templates and guides without hiring an expert.
Readily Available Support: If you have access to reliable in-house or online support communities and resources that can assist with troubleshooting and technical questions, you may not need immediate expert assistance.
Conclusion
Hiring a WordPress consultant can be a significant investment to make in your business. Still, the potential payoffs are often worth it. An expert can help you make your site a high-performing tool for your brand. Whatever your specific goals may be, you can likely find a WordPress professional to help you achieve them.
In this article, we touched on five areas a consultant may be able to help you with:
Boosting your SEO rankings.
Optimizing your website's performance.
Increasing your conversion rates.
Enhancing your marketing strategy.
Designing your website.
Have you had any experience with hiring a WordPress expert? Tell us about it in the comments section below!